Responsive Business Law Attorney in Southfield, MI
---
Specialized Support From An Experienced Commercial Lawyer
Are you buying or selling a business or commercial real estate property? Marshall has closed hundreds of business and commercial real estate transactions in the 32 years of experience serving Macomb County and the surrounding areas. Marshal A. Garmo, PC understands just how important business law is to the local community and is here to protect you and your business through any obstacle you may face to ensure a problem-free business or commercial real estate purchase. Commercial litigation, transfers and other company issues affect not only your ability to earn a living, but also how well our society fulfills its commitments to fairness, equality and free enterprise. He has extensive experience handling these and other cases and knows exactly how to resolve them in a way that is agreeable to everyone. Operating out of Southfield, Marshal A. Garmo, PC offers quick, effective solutions to even the most intractable legal issues.
Comprehensive Counseling to Assess & Address Your Legal Needs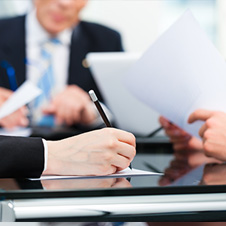 Over the course of our three decades in business, Marshal A. Garmo, PC has learned that the most effective ways to resolve legal issues is often to let you know what your rights and options are. He begins every case by inviting you to visit his office to speak face-to-face regarding your legal needs. He goes over every detail of the case, identifying exactly what you seek to accomplish, what barriers stand in the way and what possibilities there are for resolving those barriers. If your issue involves a dispute with another party, we can bring that person in as well and try to find an accommodation outside of court.
Specialized Legal Support for a Wide Range of Issues
Marshal A. Garmo, PC has the experience and expertise to handle a wide range of business issues. These include:
Commercial Litigation - Whether you are filing a suit or have one filed against you, he is happy to help. He reads through your contact in detail, identifies the root cause of the dispute and finds a solution that satisfies both you and the other party. If you are unable to resolve this issue out of court, he will build a robust defense for your position and can handle all interactions with lawyers from the other party.
Business Transfer - Business transfers can create a wide variety of legal issues, especially if the terms of the transfer and powers of the new owner are not clearly spelled out. For new transfers, Marshal A. Garmo, PC can help you develop clear contracts that spell out exactly what may and may not happen as a result of it. For disputes over past transfers, he can determine exactly what each party's rights are, and if this is not clear from the original terms, he can come up with a new agreement that satisfies everyone.
Other Issues - In addition to transfers and litigation, Marshal A. Garmo, PC has the experience to handle insurance disputes, real estate transactions, franchise and shareholder disputes and a wide array of other issues. No matter what legal problems your business is facing, he gives you the information and support to rise above them.
---

Marshal A. Garmo, PC has experience with businesses of all sizes and ages and tailors all of his work to your specific needs and goals. For more information or to request legal assistance, contact him today.