Sterling Heights, MI's Persistent Criminal Defense Attorney
---
Marshal A. Garmo, PC defends due process, giving you unrivaled legal support when you need it the most.
"Innocent until proven guilty" is a central principle of our justice system, yet it's far easier said than done. Without the support of a dedicated criminal defense attorney, it can be difficult to ensure a fair trial and proportionate sentencing. Marshal A. Garmo, PC is committed to ensuring due process of law for all of his clients. He provides defense services for a wide range of felonies and misdemeanor charges, striving for fair outcomes no matter the nature of the case against you.
Legal Advice & Support for All Driving Ticket Cases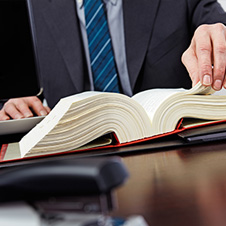 Drunk driving cases and other automotive violations are among the most common offenses, but just because they are common does not mean they are easy to deal with. Marshal A. Garmo, PC, an experienced DUI lawyer, knows local driving laws backward and forward and can protect you from both spurious charges and unfair punishments. He examines all of the factors that led to the charge, including the police officer's reason for stopping you, the quality of the Breathalyzer or field tests used to establish your guilt and how you were treated upon being charged. If any of these factors are shown to be improper, he can substantially bolster your case or even have the charge thrown out.
Even if you're found guilty of a driving violation, that does not mean that any punishment is appropriate. He will fight to minimize or eliminate jail sentences, ensure timely driving license restoration, and otherwise protect you from unfair punishments. He also protects your reputation during the case, making sure that the court of public opinion does not compound your punishment in the court of law.
An Array of Defense Services for All Criminal Cases
In addition to driving tickets, Marshal A. Garmo, PC provides support in all other criminal cases. No matter what you are accused of, you can count on him to:
Examine the Evidence - While the case against you may seem airtight, evidence of a crime is often weaker than it appears. Even forensic data can often be misleading, while eyewitnesses frequently fail to remember key details correctly. Marshal A. Garmo, PC interrogates all of these sources of evidence in detail, looking for any flaws that may bolster your case. He also assembles evidence in your defense, sparing no effort to learn everything he can about what really happened.
Deal with the Prosecution - Talking to the prosecuting lawyer, as well as any paralegals, witnesses or other people involved in making the case against you, is a dangerous process. He handles these interactions for you so you do not risk releasing information that will bolster their case.
Ensure Fair Sentencing - As with driving offenses, a guilty verdict should not mean that all bets are off in terms of sentencing. He makes sure that the severity of your punishment does not exceed that of the crime, and that you are treated well by court and law enforcement officials during and after the case.
---

Don't face a criminal charge unaided. For more information on defending yourself in court, contact Marshal A. Garmo, PC today.