Attentive Southfield, MI Attorney with Exceptional Traffic Law Knowledge
---
The Desire to Enforce Traffic Safety Does Not Nullify the Need for Due Process, and That's Where Marshal A. Garmo, PC Comes in.
As a lawyer with more than 32 years of experience, he protects Michigan drivers from unfair accusations and excessive punishments while still striving to keep the roads safe. Regardless of the specific charge against you, he offers the advice and support you need for a fair, equitable trial.
A Traffic Lawyer Upholding Both Safety & Due Process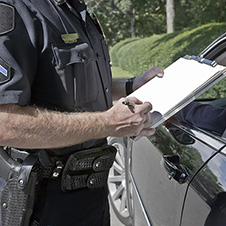 Marshal A. Garmo, PC understands that safe roads and fair trials go hand-in-hand. The more confident drivers are that the legal system only punishes those who are truly guilty and does so in a fair way, the more willing they will be to obey the law, report other drivers and even admit to guilt if they make a mistake. By defending his clients against false accusations and excessive punishments, he contributes to a safer, more responsible driving environment.
In building a better driving environment, Marshal A. Garmo, PC addresses every aspect of traffic violations. He starts with the initial charge, making sure that the officer who pulled you over had probable cause to do so. He then examines the specific vehicle you were driving, the evidence that you drove it incorrectly, and your potential for harming others or damaging property. Finally, he considers the punishments you are facing and whether they meet the seriousness of your offense. If any one of these factors is improper, he will be able to lower your sentence, prove your innocence or even have the case thrown out.
An Attorney Versed in All Violations
In his three decades of experience, Marshal A. Garmo, PC has handled every manner of traffic charges. He is prepared to help you with:
Moving Violations - From speeding to not fastening your seatbelt to failing to stop at a stoplight, these violations can slowly accumulate, causing you to pay more in insurance or even lose your license. He defends you from false accusations, and if you are found guilty, he strives to minimize the cost to your finances and driving privileges. He handles both trucking violations and violations committed in ordinary automobiles, providing full scrutiny in both types of cases.
Hit and Run - Depending on the circumstances, a hit and run violation in Michigan can be a felony. Such a charge can have a serious impact throughout your life, which is why he is serious in defending your rights and reputation.
Driving Under the Influence - Driving while drunk or high carries enormous penalties, but the accusation is often flimsier than it seems. By scrutinizing field tests, Breathalyzers and the officer's reason for stopping you, he makes sure you are not found guilty of a DUI you didn't commit.
---

For more information on Michigan's traffic laws and your defense options, contact Marshal A. Garmo, PC today.